Tags
all-natural, business, buy, candy, cook, creative, dairy-free, fun, gluten-free, handmade, Kerfluffles, kickstarter, marshmallows, read, sulfite-free, think, treat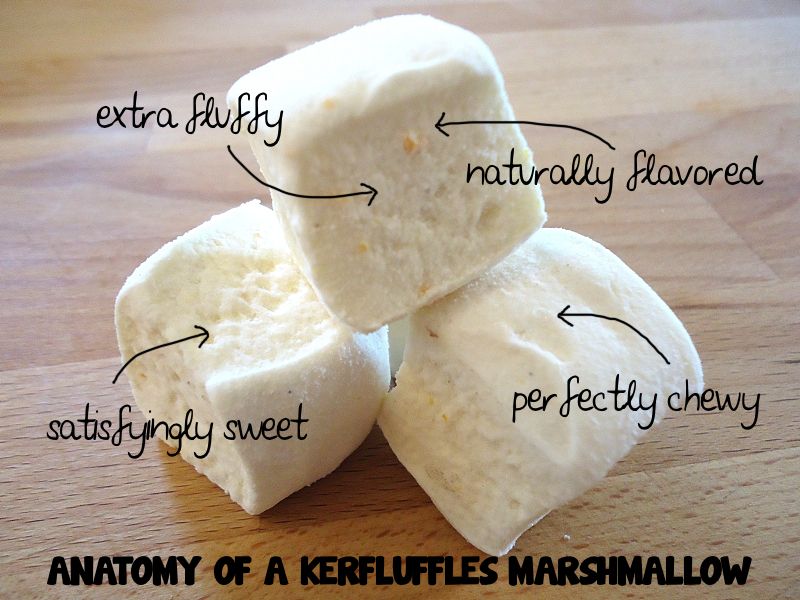 I am not fickle when it comes to relationships; neither do I give up easily when facing a challenge. (Some call it stubborn, but I prefer "perseverant" or "focused." "Endearingly single-minded" is also acceptable. ;) However, food and I are another matter. My fondness for cooking and baking has resulted in a series of love-'em-and-leave-'em relationships with any number of recipes. I have to make a deliberate effort to make the same dish twice, and it takes an exceptional recipe to make it into regular rotation (and on to this blog). When it comes to cooking, I am a shameless flirt.
But ever since a culinary adventure in early spring, my sugary affections have been surprisingly singular: handmade marshmallows. The more marshmallows I made, the more ideas I had for flavors and recipe improvements. The more I shared the marshmallow bounty with friends, the more requests I got. Most importantly, I was having fun! So after making over a hundred dozen little cubes of fluffy goodness, I am happy to introduce my new business venture: Kerfluffles Marshmallows.

Handmade marshmallows are nothing like the dry, rubbery version from the supermarket. They are more tender, fluffy, and flavorful. They are sweet without being cloying, and they have a texture that makes very serious grown-ups giggle out loud. If you've followed my blog for long, you know all-natural cooking is a way of life for me. Kerfluffles Marshmallows are also all-natural, made with the highest quality ingredients, and free of gluten, dairy, preservatives, dyes, and colors. The flavors never come from concentrated extracts, only real ingredients like vanilla bean, cocoa, fresh citrus, and espresso.
I just launched my Kerfluffles Kickstarter*, and I'd love it if you would stop by, watch the video, and read more about yummy flavors like Vanilla Bean, Double Dutch Chocolate, Mocha Chip, Orange Dreamsicle, and Lemon Meringue. If it sounds like something you would enjoy, please consider supporting my Kickstarter and getting some delicious marshmallows for yourself. After I meet my Kickstarter goal, I will open for business at kerflufflesmarshmallows.com on October 15th.

For me, this is another step in making the most of today and taking joy in every moment. I am excited, but also peaceful. No matter what, this is a step forward, and every step I take safe in the arms of God and family is already a victory. Whether you ever try a marshmallow, I appreciate getting to share another piece of this journey with you. :)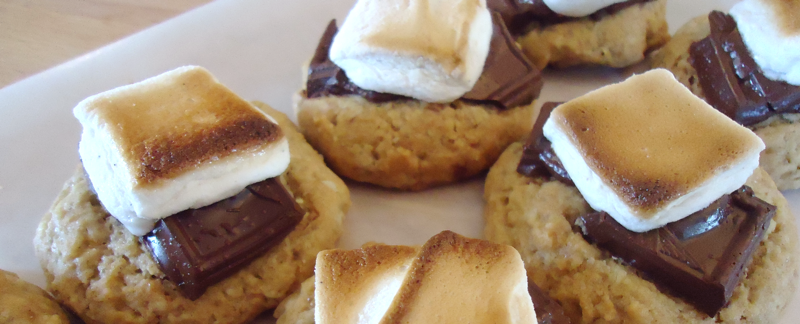 *For those of you new to kickstarter.com, it's a sort of grassroots funding platform where people interested in starting a creative project can take pre-orders to help fund their project. In exchange for financial support, project backers get all sorts of exclusive rewards. Mine include several different t-shirts and LOTS of yummy marshmallows, including the chance to make your own custom flavor. It's basically a vote of confidence, saying you believe in Kerfluffles Marshmallows as a business and are willing to help support it right from the start.